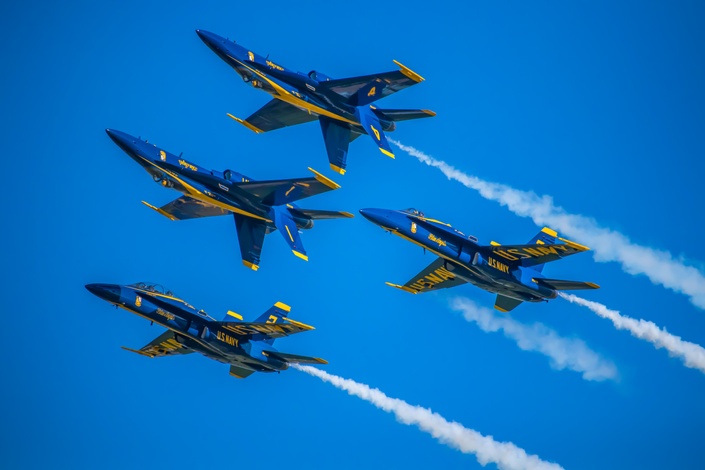 Certification - Certified Lean Six Sigma Black Belt (CLSSBB)
This Certification Exam will get you Certification CLSSBB
This is Certification Exam for CLSSBB - Certified Lean Six Sigma Black Belt. The Certified Lean Six Sigma Black Belt is a professional who is well versed in the Lean Six Sigma Methodology, who leads improvement projects. A Lean Six Sigma Black Belt possesses a thorough understanding of all aspects within the DMAIC Phases. They interpret Six Sigma tools and use standard principles of Lean.
About this Certification Exam
Length: No Time Limit
Registration fee: $149

(plus tax where applicable)
Languages: English,
Exam format: Multiple choice and multiple select, taken remotely
Exam Delivery Method: Take the online-proctored exam from a remote location
Prerequisites: Green belt preferred
You will be quizzed on 150 questions.
Passing score should be >70%
Three Retakes allowed
Free Study Guides are available.
This Certification is issued by DFSS Institute llc.
DFSS Institute LLC is based in United States of America
Picture of Certificate: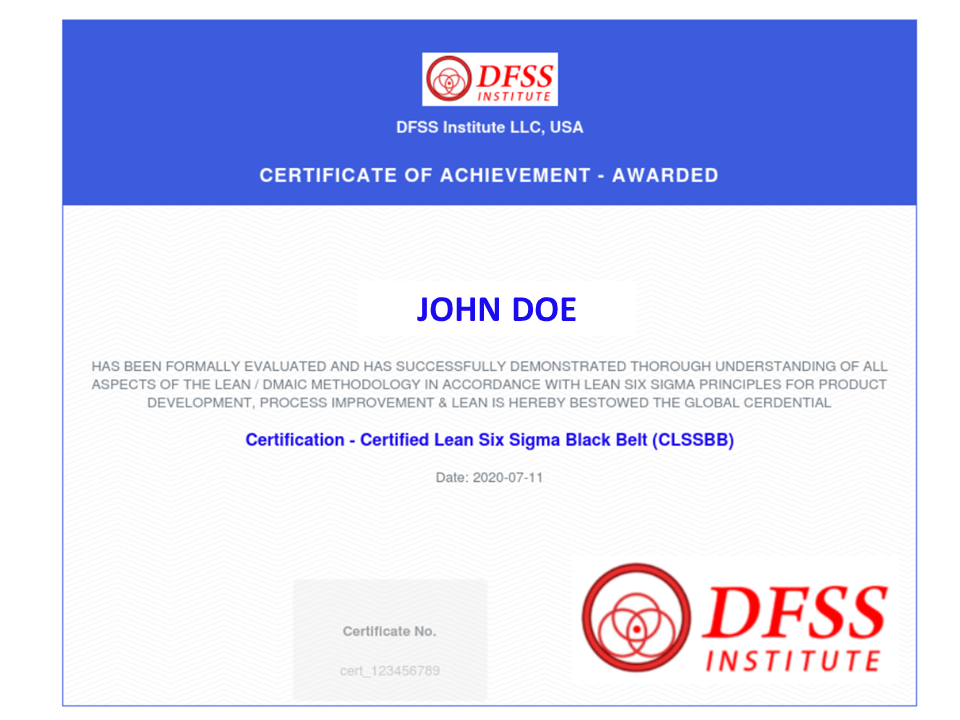 Subject Matter that you will be quizzed on.

INTRODUCTION
Course Overview
Introduction to Six Sigma
Waste and Value
Value Streams, Flow and Pull
Perfection
DEFINE
Recognizing an Opportunity
Pareto Analysis
Assessing Six Sigma Projects
Team Selection and Dynamics
Stakeholder Analysis and Plan
Project Charter
Project Management
Avoiding and Overcoming Barriers
L-Maps
SIPOC Maps
Product Family Matrices
Kano Model & Critical Incident Technique
Surveys
Listening to Customers
Analytic Hierarchical Process (AHP)
Cascading Ys to CTQs
MEASURE
Basic Principles of Measurement
Statistical Principles
Descriptive Statistics
Control Charts for Continuous Data
Control Charts for Discrete Data
Statistical Process Control Techniques
Discrete Distributions
Continuous Distributions
Process Capability Analysis
Estimating Process Yields
Activity Maps
Spaghetti Diagrams
Current State Value Stream Map
Statistical Inference
Data Collection and Sampling
Drill Down Tools
Distributions
Exploratory Data Analysis
Multi-Vari Charts
Benchmarking
Project Risk Assessment
ANALYZE
Opportunity Maps
Value Stream Design
Cause and Effect Analysis
Root Cause Analysis
Testing Common Assumptions
Design of Experiments
Testing One-Way Classifications
Testing Multiple Classifications
Analysis of Two-Way Tables
Nonparametric Methods
Create Feed-Forward Models for Improvement
Regression
Regression Diagnostics
Screening Experiments
Factorial Experiments
Analyze Costs and Benefits
IMPROVE
Work Design
5S and SMED
Continuous Data Measurement Systems
Attribute Measurement Error Analysis
Develop the Improvement Plan
CONTROL
Develop New Procedures
Process Control Planning
Deployment Maps
Dashboards
Transfer Ownership and Validate Benefits
Improvement Plan Risk Assessment
LEAN TOPICS
Lean Leadership
A3 Problem Solving
Team Facilitation
Problem Solving Tools: Five Why's, Cause and Effect Diagram, Pareto Diagram, Process Mapping
PDCA (Plan Do Check Act)
Kaizen Events
Daily Kaizen / Improvement Kata
Strategy Deployment / Hoshin Kanri using A3
Lean Metrics
Implementation Strategy
Lean Culture and Organizational Issues
7 Wastes
Value Stream Mapping for Manufacturing, Healthcare, and Business Processes
Operational Stability
Standardized Work
Leveling Production (Heijunka)
5S Visual Workplace
Total Productive Maintenance (TPM)
Overall Equipment Effectiveness (OEE)
Autonomous Maintenance
Quick Changeover / Single Minute Exchange of Die (SMED)
One Piece Flow / Continuous Flow
Cellular Layouts
Kanban Systems
Replenishment and Sequential Pull Systems
FIFO Flow
Mistake Proofing
We provide the study guides for your study so you can pass the exam.
As a CLSSBB you will Integrate the Lean and Six Sigma bodies of knowledge into a comprehensive approach for creating processes that consistently generate value for customers.
Free Study Guides are povided for download.
Your Instructor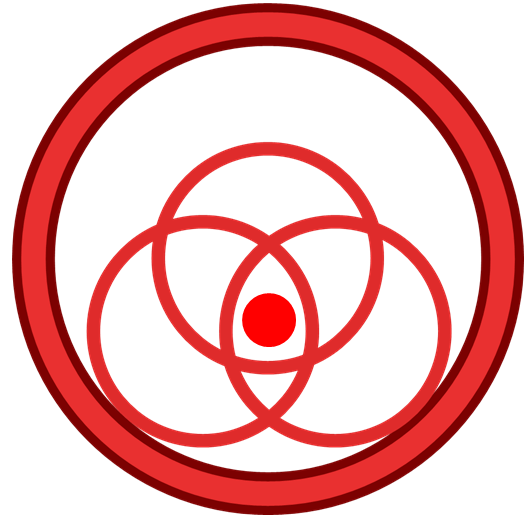 DFSS_Institute Instructors:-
We are experts in our respective fields of area. These trainings and quizzes are designed to make you successful in passing the exams.
We have developed industry agnostic training. The training is applicable for any industry including:-

Aerospace | Automotive | Consumer products | Electronics | Agribusiness,
Education, | Food and Food Services, | Financial and Insurance Services,
Government, | Healthcare (Medical and Pharmaceutical),
Manufacturing, | Industrial equipment, | Non-Profit, | Process industries,
Golf Courses, Dentists, Doctors, Car Dealerships, Lawyers etc...
if you have any questions, please contact us.



Frequently Asked Questions
When does the course start and finish?
There is no time limit to complete the test. You get three retakes.
How long do I have access to the course?
After enrolling, you have 90 days to finish the Certification Exam.
What if I am unhappy with the course?
No Refunds for this Certification Exam. You get Three Retakes to pass the exam.