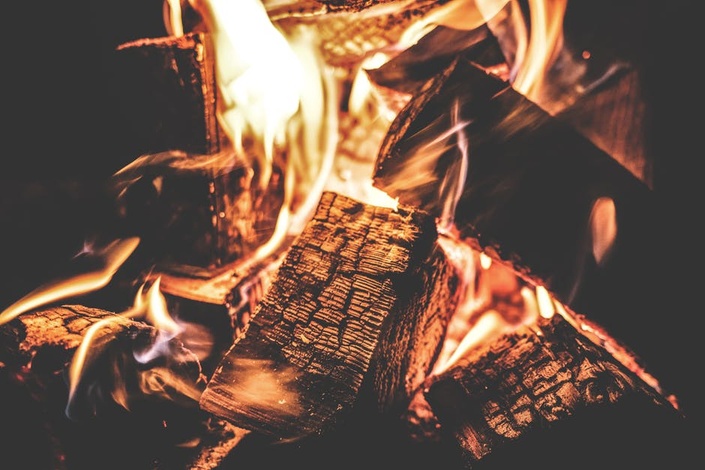 CDFLSSBB - Certified Design For Lean Six Sigma Black Belt - Certification and Training
IDDOV Methodology - Online Training & Certification. Boost your problem solving skills. 445 Hrs of instruction. 75% off list price of 8K.
Watch Promo
Design for Lean Six Sigma Black Belt Training & Certification: ONLINE PROFESSIONAL TRAINING / CERTIFICATION PROGRAM FOR PRODUCT, PROCESS & TECHNOLOGY SOLUTION PROVIDERS / ENGINEERS
Easily leverage all your education by enhancing your problem solving skills with most practical and highly rated DFSS Training and Certification program. Over 445 Hours of Instruction.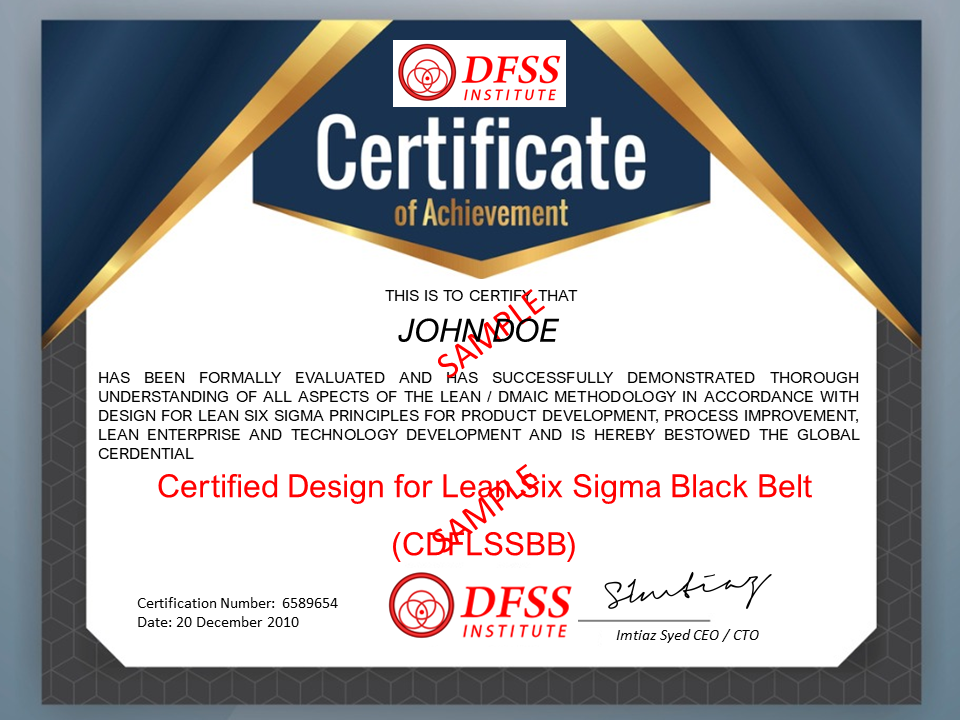 ---
COURSE OVERVIEW
What is DFLSS (Design for Lean Six Sigma) Black Belt Training/Certification
1. 80% of Quality, Reliability and Durability problems originate in Product / Process definition and design.
2. DFSS IDDOV Methodology helps make product, process or technology robust against noise factors causing variation, at the lowest possible cost.
3. DFSS will move your design process from reactive to predictive by designing quality/reliability into the product from the start, rather than discovering and attempting to fix product issues during production.
---
Register Today and Help Your Organization Solve Its Biggest Problems
Delight Customers by meeting Voice of the Customer
Minimize Cost with Robust Designs and Processes
Maximize Profits
Build Better Teams by empowering them with Pre-build templates
---
This instructor-supported course is over 445 hours long, and you have access to the materials for lifetime.
Learning Objectives
The objective of this course is to develop a comprehensive set of skills that will allow you to function effectively as a DFSS Black Belt.
You will learn the DFLSS Black Belt body of knowledge, practice techniques for both quantitative and non-quantitative analysis, and gain the team leadership skills necessary to get projects across the goal line. Three bodies of knowledge are taught (Proactive DFSS IDDOV Methodology, Lean and Reactive DMAIC methodology)
After completing this course, you should be able to:
1. Communicate using DFSS concepts.
2.Think about your organization as a collection of processes, with inputs that determine the output.
3.Relate DFSS concepts to the overall business mission and objectives.
4.Use the concept of a S/N Level to evaluate the capability of a process or product etc
5.Understand and apply the five step IDDOV model as a framework to organize product / process improvement activities.
6.Employ a wide range of product improvement techniques, including Design of Experiments, within the IDDOV model.
7.Recognize the organizational factors that are necessary groundwork for a successful DFSS effort.
8.Employ your DFSS skills to lead a successful product improvement project delivering meaningful results to the organization.
9. Over 110 modules covering the DFSS IDDOV methodology and Lean Topics
10. Over 445 hours of material
11. Many Case studies showing the application of the DFSS Methodology
12. IDDOV (Identify, Define, Develop, Optimize and Verify Phases) Methodology & Robust Optimization
13. Learn the application of Minitab software for Taguchi Designs
To successfully complete this course, you must review all of the lessons and completing the Final Exam / Simulated Project, you will earn Design For Lean Six Sigma Black Belt (CDFLSSBB) Certification.

Who Should Enroll
1.If you are an employee, then this training & certification is a must, and will rise you above the masses and aid in launching your career.
2. If you are already in the industry working, then this training & certification can propel your career upwards and separate you from the crowd & make you stand out.
3. If your personal and career goal is to master this skill set and improve your value as an employee and organizational leader, then you should earn your Design for Six Sigma Black Belt Certification.
4. If you currently have a green belt or black belt in regular six sigma, then this certification will complement your current skill set.
5. We strongly recommend that 100% of employees need to be a black belt certified to succeed & accelerate growth in today's flat world of global competitive landscape.
BONUS Materials that you get for FREE when you register:
1. Pugh and Decision Analysis Templates & Other Templates
Certification requirements:
1.Satisfactory completion of a final exam with score >80%

E-learning Benefits
1.Self-paced learning (Online, Anytime, Anywhere, 24/7/365 Access)
2.Allows students to structure course timing around their schedule
3.Gives students time to review materials without slowing down classmates
4.Lectures can be reviewed multiple times (Over 445 hours of material in 110 Modules)
5.Active learning (thinking and doing during a lecture),
6.Instructor interaction. Students ask Instructor questions via email
7.Instructors try to answer material-related questions within 24hours
8. We will help consult with you on your DFSS projects when you are registered for the course
Quality of Course Materials:

1. DFSS institute, LLC core focus is on DFSS Training and Certification
2. Case studies in this course are of the highest quality and industry relevant
About DFSS Institute LLC
DFSS Institute LLC is a global company providing DFSS training and certification.

Common Questions
When can I begin the course?
With e-Learning, you can start at any time after purchase. You do not have to wait for other students to fill a class or have to attend an instructor-led "kickoff" event. All the materials and instructions are online, and you can complete the course at your own pace with in 365days.
Are there pre-requisites to this course?
This course has no pre-requisites. Unlike other online providers, we do not require you to take any prerequisite course, Green Belt or other, prior to your DFSS Black Belt training.
How long does Black Belt training take?
You have 365 days to complete the course, which represents about 445 hours of training materials, not including any external project work you may include. It also depends on how much you want to get out of it and your prior experience level.
Do I need a project to complete the training?
You have to complete a simulated project that we provide and do the calculations and answer the quiz to get certification.
Also we recommend that you do a real-world project that will significantly enhance the learning experience because you can use it to directly practice the concepts and tools as you complete the course.
Do you offer pricing discounts for groups of trainees and deployments?
Of course! Please contact us directly to discuss your specific needs.

Value for Customers
1.We offer money back guarantee if you are not satisfied with the course with in the first 3 days.
2.The DFSS Knowledge that you gain from this course will improve your Return on Investment (ROI) for robust design by minimum 100% on your projects. You will generate tremendous amount of information by applying the robust optimization DFSS techniques.
3. We will respond to queries ASAP. That is our guarantee.
4.The quality of the DFSS training and certification is of the highest quality as we require you to get at least 80% on the exam to ensure good comprehension of the materials.
5.The price for the course is 75% less than conventional way of learning as you save on transportation, housing, meals etc
6. You will be able to access the information in 3 drips (time release). 1st drip is available as soon as you register and it includes the first three phases on IDDOV. 2nd drip will start after 32 days. 3rd Drip after 60 days.
Register Today and Good luck in your career.

DFSS Institute, LLC
Your Instructor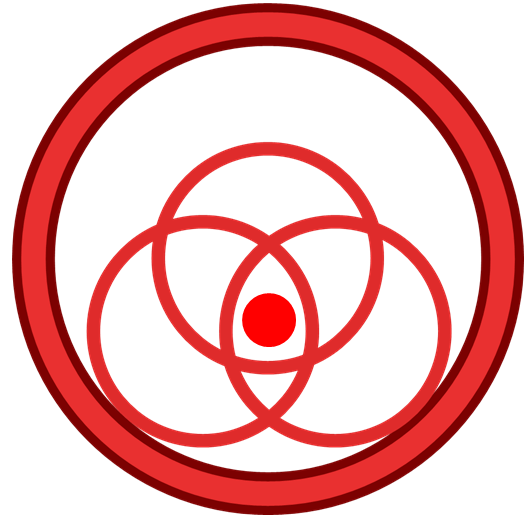 DFSS_Institute Instructors:-
We are a group of Master Black belts in Lean Six Sigma (DMAIC) and IDDOV methodologies along with advanced Lean techniques. We will coach you one-one on projects and help you reach your goal of learning and certifications.
We have developed industry agnostic training. The training is applicable for any industry including:-
Aerospace | Automotive | Consumer products | Electronics | Agribusiness,
Education, | Food and Food Services, | Financial and Insurance Services,
Government, | Healthcare (Medical and Pharmaceutical),
Manufacturing, | Industrial equipment, | Non-Profit, | Process industries,
Golf Courses, Dentists, Doctors, Car Dealerships, Lawyers etc...
if you have any questions, please contact us.

Course Curriculum
IDDOV Methodology/ Identify Phase: IDDOVPhase_1 (5.5 Hours)
Available in days
days after you enroll
Defining Functional Requirements : IDDOV Phase _2 (25 Hours)
Available in days
days after you enroll
Frequently Asked Questions
When can I begin the course?
With e-Learning, you can start at any time after purchase. You do not have to wait for other students to fill a class or have to attend an instructor-led "kickoff" event. All the materials and instructions are online, and you can complete the course at your own pace.
How long do I have access to the course?
You have 365 days to complete the course,
What if I am unhappy with the course?
Buy in confidence. We offer a full 24-hour money-back guarantee.
Best value for money. Enhances your skillset to the next level. 430 hours of instruction covered in 110 modules.